Wincomm Launches New Explosion Proof Product WTPE series for Gas & Oil Industries Using in Hazardous Area
2019-06-25
Hsinchu, Taiwan – 28th Jun., 2019, Wincomm, a leading medical and industrial computer provider, announced Explosion Proof Panel PC, WTPE series, built to suit for hazardous environments, undergoing rigorous testing to ensure safety and top performance, and offering the best solution for environments with explosion considerations. The WTPE works well in oil & gas industry, chemical manufacturing, power generation, distilleries and other hazardous industrial applications.
Where & When Will an Potential Explosion Occur?
As a rule, the explosion can be occurred when three elements exist. One is flammable material which can be a gas, vapor or dust in sufficient quantities, second is source of ignition which means any source of energy, e.g. a spark or high temp etc. and the third one is oxygen which is usually present anywhere. The basic principle for explosion proof protection is to eliminate one or more legs of the explosion triangle. Wincomm provides WTPE product series, a C1D2/ATEx Zone II/IECEx certified series, which ensure to secure safe operation under flammable or explosive gases/ vapors, potential environments.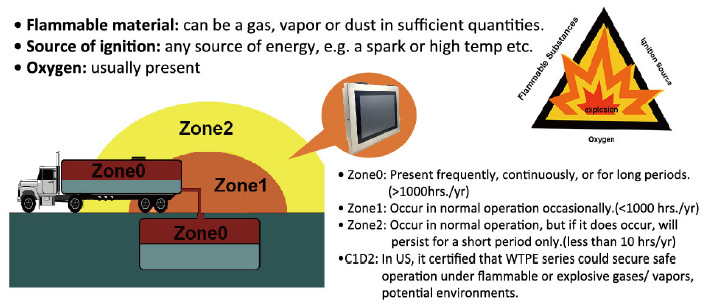 Flexible and Scalable Connectivity with Rugged Design
Toward versatile applications and potential hazardous area, Wincomm WTPE series provides flexible and rugged design of cable gland USB (max ports x4) and LAN (max ports x2), IP66 dust-water proof enclosure with M12 COM connectors. In addition, Wincomm supports wireless solution with robust antenna and a heavy-duty cover which makes it easy to clean and anti-correction. All connectors are downward for easy installation and space saving. The WTPE series also equipped smart thermal system to maintain wide temperature from -20℃ to 60℃ to fulfill versatile environment requirements. WTPE series is capable of corrosion and 100% water-dust proof guarantee and can be utilized in the harshest industrial environment related to gas and vapor substance.

WTPE series Suit for Factory Automation Using in Hazardous Area
In order to comprehensive real-time controlling and data collection, Wincomm adopted Intel® 6th generation processor and two 2133 MHz DDR4 up to 32G to secure highly computing power. With 24/7 operation and high performance CPU, equipment would be inspected or monitored via WTPE series. With Wincomm WTPE series, central control room is definitely guarantees the brilliant graphic and data collection and is 24/7 presented to deal with any situation and communication.

With Highest Protective Solutions WTPE Series are Now Available
All of the models in the Explosion Proof Series are sealed to at least IP66 standards. Wincomm takes our users concern to meet ATEX Zone II / IECEx / C1D2 certificate and WTPE series provide extremely safety design to fulfill Ex-area application requirements. The WTPE series has also passed FCC, CE (EMC), VCCI Class B certification standards, which results in an upgraded product for industrial, to home, to office, and laboratory usage. Our users have a higher protection level in their health and safety while using our products. We bring our core competence and experience in every detail to the design of our products, providing stable and reliable products to our customer.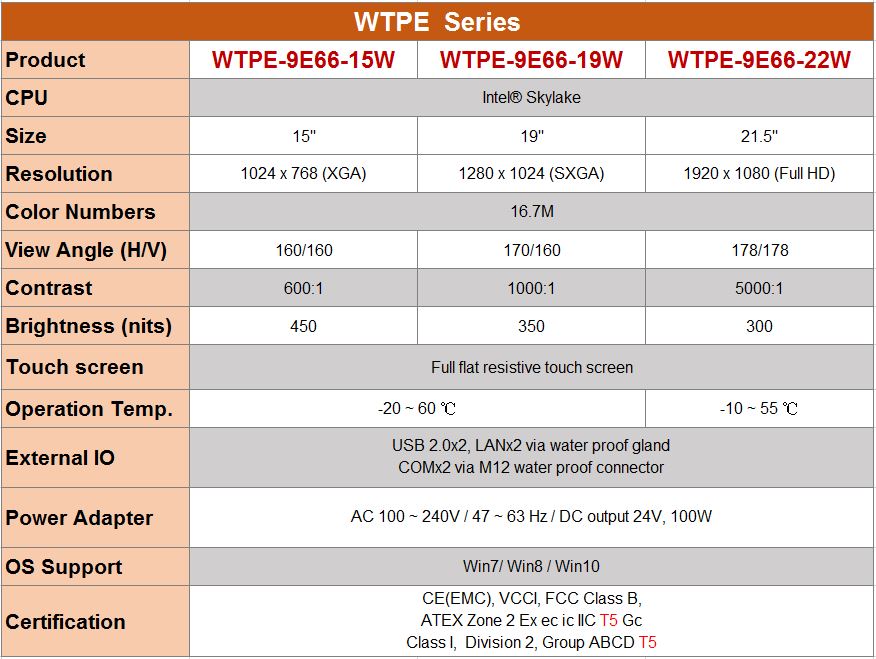 Everything, from the Mainboard, BIOS, driver to the mechanical design was designed by Wincomm. Special customer requirements can be fully supported with a long-term supply policy. If you have any product or customization requirements, please contact Wincomm sales (mail to: sales_support@wincomm.com.tw). For more product information, please visit the Wincomm website at www.wincomm.com.tw
About Wincomm
Wincomm is one of Taiwan's leading manufacturer of industrial computer and embedded computer products. Wincomm designs and develops all in one panel PC, large size all in one digital signage system, rugged box PC and embedded software products for a broad range of industries and applications. Wincomm aims to provide hardware and software integrated solutions for the most variant environments such as industrial automation/ human machine interface control, digital signage / infotainment Kiosk, and medical computing.