Wincomm Compact Apollo Lake Stainless Steel Full IP Touch Panel PC WTP-8D66 Series Enriches Wide Range Use at Rugged IIoT
2020-01-07
Hsinchu, Taiwan –8

th

Jan, 2020,

Wincomm, a leading medical and industrial computer provider, announced Stainless Steel Full IP Panel PC WTP-8D66 series with Intel

® Apollo Lake J3455 processor, Intel® integrated HD500 graphics (graphics architecture gen 9 compared to Baytrail gen 7), size ranging from 15" to 21.5" to enlarge the use at rugged factory IIoT solutions. Designed for applications of workplace, Wincomm comes up more efficient, flexible and environmentally friendly products, making users more safer and let manufacture reduce energy by setting WTP-8D66 series.



Stable computing makes high quality data communication
With the Industrial Internet of Things (IIoT) being incorporated into almost anything, manufactures pay more focus on how to make factory device more flexible, durable, and easier to use. And looking for devices that are rugged and minimize the maintenance costs is always what managers concern. WTP-8D66 series equipped with Intel® Celeron® J3455 CPU (codename: Apollo Lake, Passmark:2114) and up to 8GB of DDR3L RAM, targeting on optimizing utilization on quad-core processing, size ranging from 15"~21.5". With powerful thermal design to support higher computing power and high data transmission rate I.O. port, WTP-8D66 series could even provide wider operation temperature from 0℃ to 45℃. Fulfill the entry growing demand in rugged environment with hygienic considerations including pharmaceutical, food, beverage, chemical industries.
Highest protective solutions with IP66/69K full sealed enclose
The ability for the machine controller panel PC to withstand high pressure, high temperature and moisture to ensure a sanitized clean environment plays an important role towards workplace. WTP-8D66 series are thoroughly and rigorously tested to ensure IP66/IP69K water/ dust proof and full sealed with anti-corrosion enclose, and optional wireless solution is designed a PCB type antenna with heavy-duty cover. Supporting with customized design to meet IK08 vandal proof requirement. All of above makes WTP-8D66 series 100% guarantee resist against corrosion and liquids with a true flat, easy-to-clean housing in harsh environments.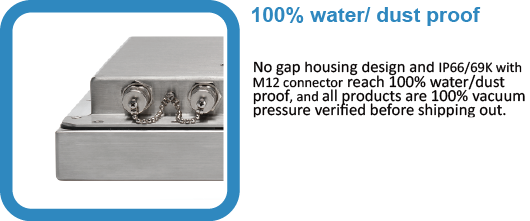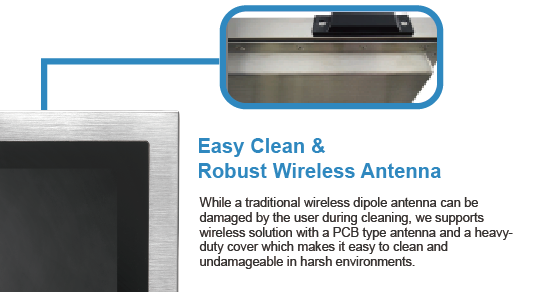 Fig 1.100% water/dust proof guarantee comes all products are vacuum pressure verified before shipping out. With robust antenna design, it is IP69K with full sealed enclosure by non-corrosion SU304 or SU316 stainless steel.
Optional Waterproof Cable Gland Ensure High Quality Transmission
For ensuring data transmission quality of high speed ports, such as USB3.0 and HDMI or DP video interfaces which metal external IO connectors cannot fulfill function requirement, metal external IO connectors can be changed to waterproof cable glands sets. Besides, it supports touch screen on/off, so touch function can be disable during cleaning and be enabled after touch lock time is up. For some applications required speaker in rugged environment, it designed with waterproof speaker in 2W/5W for options.
Fig 2. The WTP series is used M12 metal connector for various I.O. ports, such as USB, COM, and LAN. Now it provides optional waterproof cable glands sets to fulfill extremely rugged function requirement.
COM and Power Port Available
End user may use a COM interface device, such as barcode scanner, which needs COM plus DC power from PC via single cable to operate. The way COM cable works is that a serial connection does not use all its pins in the interface with a COM cable. Therefore, Wincomm customizes the mother board with a 5V or 12V power supply in COM port.

Fig 3. 1 of 8 pins can be defined as 5V or 12V output and supported by COM port.
Flexible Options and Customization Capability
The WTP-8D66 series equipped with various I.O. ports, USB up to 4 (Optional USB 3.0), COM x 2, LAN x 1, and optional External LAN x 2 (occupied one COM port). Toward IIoT trend, Wincomm offered optional add-on parts to support more workplace application, such as customized 2nd HDD for RAID 0,1, sunlight readable optical bonding (Impact protection level: IK08), waterproof cable gland, speaker, and so on.
WTP-8D66-XX Series

WTP-8B66-XX Series

CPU

Intel® Apollo Lake, J3455 10W/SoC

Intel® Bay Trail, J1900

10W/SoC

Display

15", 19", 21.5"

10", 15", 19", 22", 24"

Touch

Full Flat Resistive Touch, Optional PCT Touch Screen IP69K

Storage

2.5" SATA HDD, customized second HDD for RAID 0, 1

I.O.

ü IP69K USB3.0 Connectors as Option

ü USB Up to 4, COM x 2, LAN x 1, Optional External LAN x 2 (Occupied One COM Port)

ü Customized 2W/5W Speaker

ü COM + Power 5V or 12V

ü Optional Robust Antenna

ü Optional M12 Stainless Steel Connector

Expansion

ü M.2 E Key (2230) x 1, Mini-PCIe x 1

ü Mini-PCIe x 2

Operation Temp.

ü from 0 to 45℃

ü from 0 to 40℃

Mechanical

ü Stainless Steel Grade from SUS304 to SUS316

ü Operating Temp. IP68 Power Adapter

ü Customized Sunlight Readable Optical Bonding ( Impact Protection Level : IK08 )
FCC, CE (EMC), VCCI Class B certification standards
The WTP-8D66 series has passed FCC, CE (EMC), VCCI Class B certification standards, which results in an upgraded product for industrial, to home, to office, and laboratory usage. Our users have a higher protection level in their health and safety while using our products.
Everything, from the Mainboard, BIOS, driver to the mechanical design was designed by Wincomm. Special customer requirements can be fully supported with a long-term supply policy. If you have any product or customization requirements, please contact Wincomm sales (mail: sales_support@wincomm.com.tw). For more product information, please visit the Wincomm website at https://www.wincomm.com.tw/
About Wincomm
Wincomm is one of Taiwan's leading manufacturer of industrial computer and embedded computer products. Wincomm designs and develops all in one panel PC, large size all in one digital signage system, rugged box PC and embedded software products for a broad range of industries and applications. Wincomm aims to provide hardware and software integrated solutions for the most variant environments such as industrial automation/ human machine interface control, digital signage / infotainment Kiosk, and medical computing.