Breakthrough AIoMT Applications with Wincomm New Medical AI Panel PC Series
2020-04-27
Breakthrough AIoMT Applications with Wincomm New
Medical AI Panel PC Series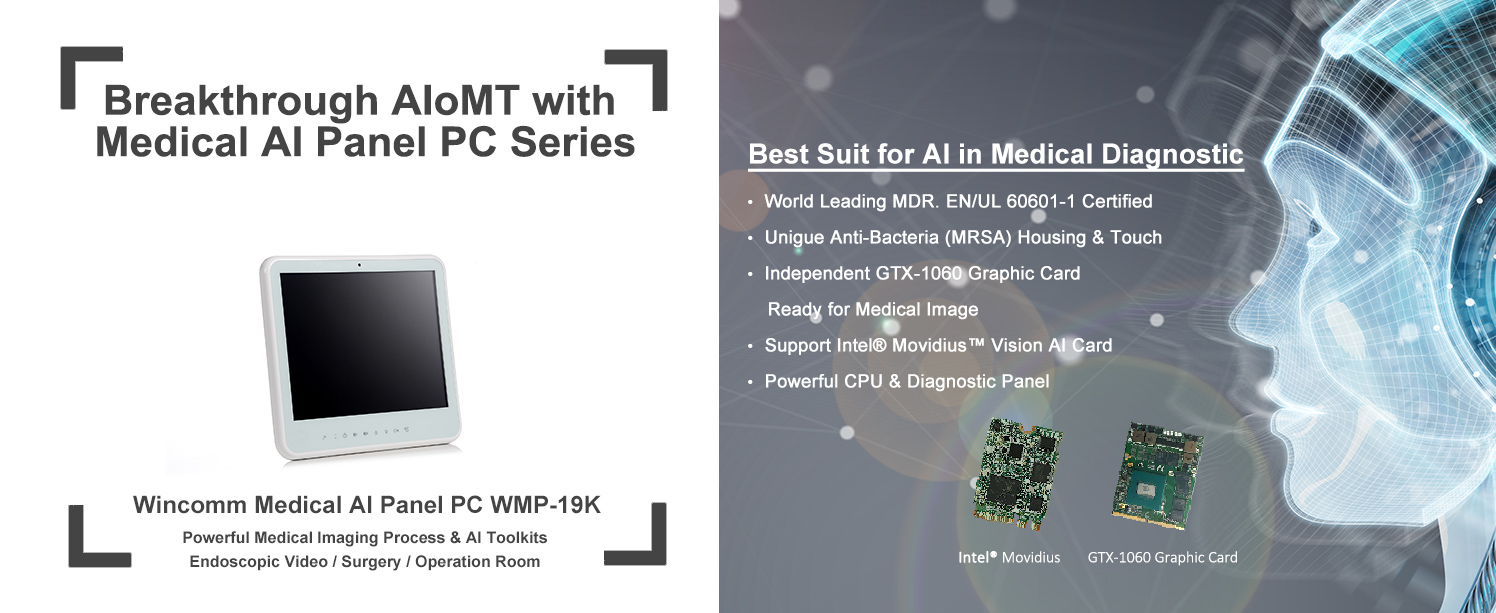 Figure 1. Wincomm New Medical AI Panel PC series suits for the growing AI-powered medical imaging applications.
Hsinchu, Taiwan – 27th Apr., 2020, Wincomm, a leading medical and industrial computer provider, launched medical AI panel pc series to enable AI-powered imaging applications. Targeting on rising up artificial intelligent instruments to overcome the challenges of medical imaging in hospitals, Wincomm innovated high computing power, Intel® 9th generation processors with independent Geforce GTX-1060 graphic card and Intel® Movidius™ vision AI card ready medical grade panel PC platforms, WMP-19K series, to empower AI assisted diagnosis in smart healthcare industry.

Advanced, AI-powered imaging applications require a suite of enabling technologies. First and foremost, processors equipped with HD graphics features and hardware-accelerated video encoding/decoding are a must. These capabilities are available on compute devices equipped with Intel Core™ processors, which are already being applied in a wide array of medical imaging applications such as ultrasounds, X-rays, MRIs, and CT scans. Facing fight to against COVID-19, it would require medical imaging detection in more efficient way, and thus these scalable processors can efficiently perform deep-learning inferencing and thanks to a hybrid CPU-plus-GPU architecture that supports complex, memory-intensive medical imaging workloads.

High Computing Power with Intel 9th Gen. Core™ Processors
All of above Wincomm innovates together with our partners to develop WMP-19K series which featuring 9th generation Intel® Core i5/i7 processors and 3D medical imaging-capable MXM graphics cards. It could take medical imaging to the next level, and also allow for the integration of peripherals like endoscopic surgery for live streaming of surgical operations or teaching on medical training.

Ready for AI-Powered Medical Imaging and 3D Applications
Equipped with highly powerful CPU and independent GTX-1060 graphic cards, supporting Open VINO Intel® Movidius™ AI module, NVMe SSD, and USB 3.1 gen II, WMP-19K could ensure to perform an outstanding medical imaging as well as imaging process in seconds. Furthermore, users could real time remote control with clear picture and process big data in high speed without delay. With the unique anti-bacteria (MRSA) housing and touch, WMP-19K definitely suit for any medical grade required environments.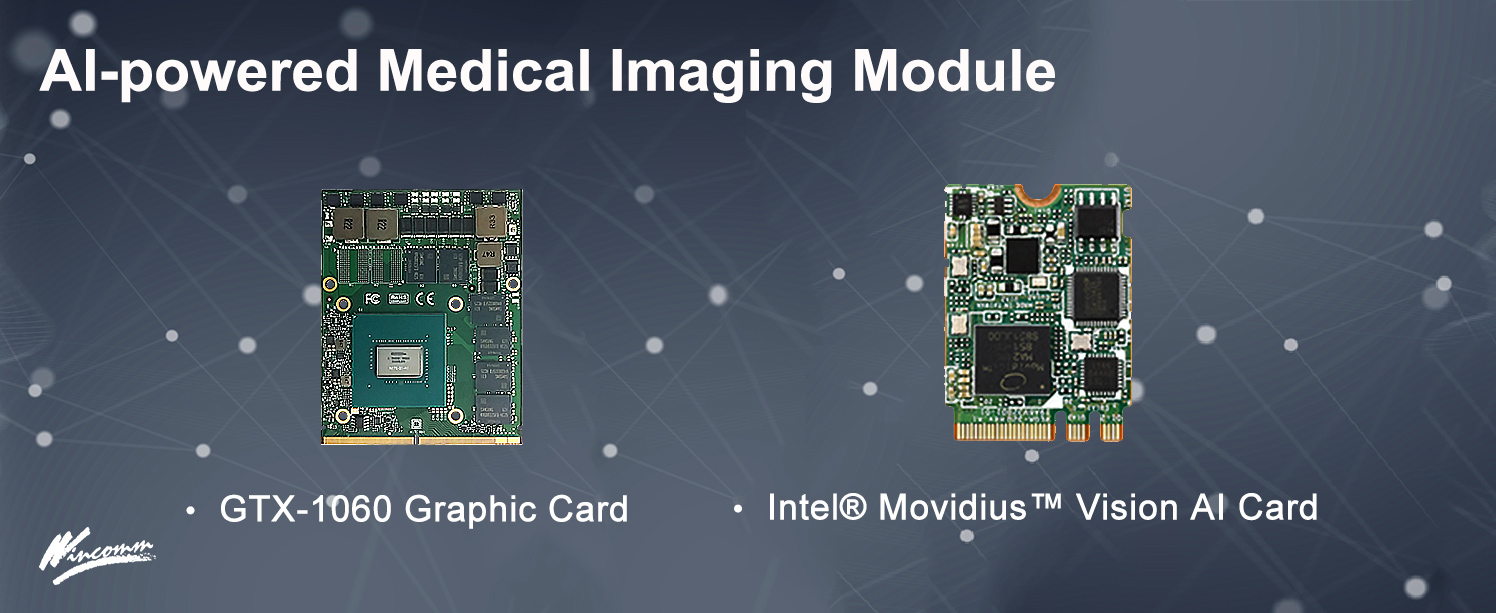 Figure 2. This WMP-19K series are well designed with AI-powered medical imaging module, including GTX-1060 graphic card and Movidius vision AI card.

Passed Medical MDR & EN/UL 60601-1 Latest Certification
All Wincomm medical grade PCs have acquired the latest Medical IEC-60601-1 4th edition certification, IEC-62133, Energy star 6.1 Compliance with FCC / CE / VCCI Class B; With better performance on energy saving and greatly improved safety on the electromagnetic wave, users are relieved from security concerns. Furthermore, the newest MDR will go into effect on May 26, 2020, and Wincomm WMP-19K has completed ready to provide the full secured product design with the newest certification.
Fully Customizable with Flexible I.O. Combination
The WMP-19K equipped with various I.O. ports, such as LAN x 2, COM x 2, and USB 3.1 gen II x 4, which are suitable to support any medical environment requirement in more compact design. Featuring on booting with M.2 NVMe SSD and optional SATA III HDD, it owns good performance to fit in medical device control PC and makes it the best optimization e-healthcare choice.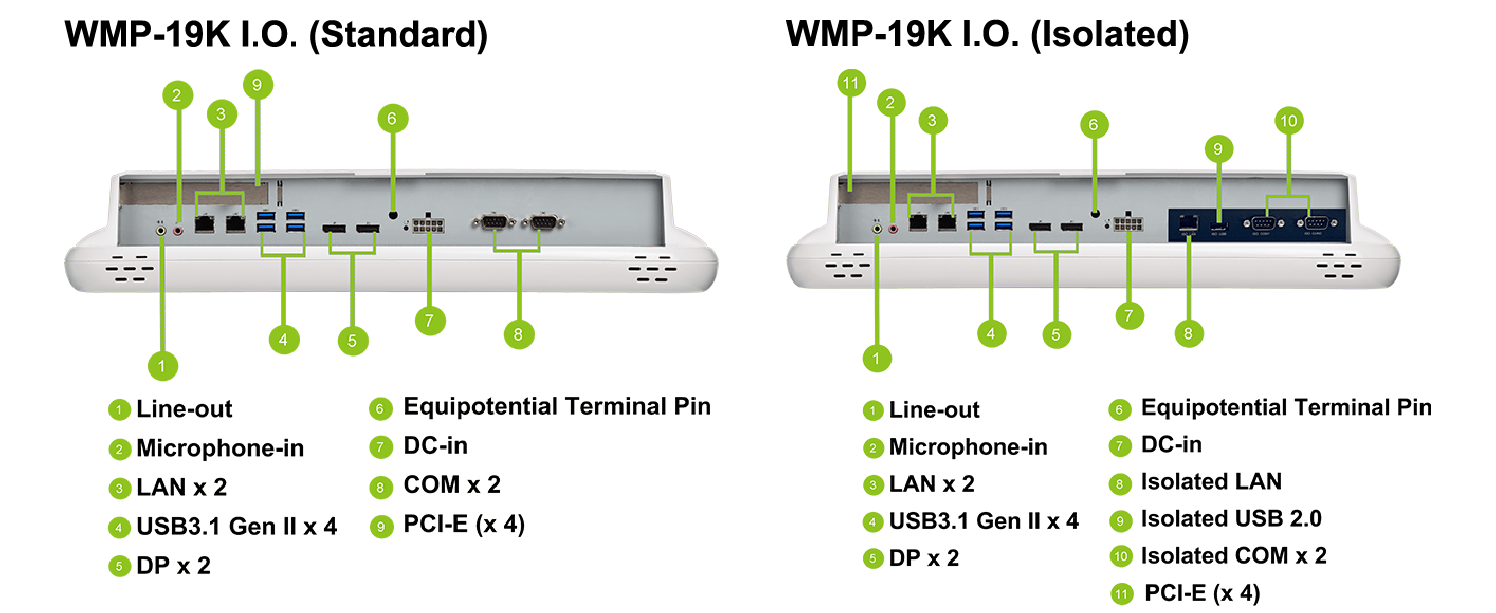 Figure 3. Flexible I.O. combination with high speed USB 3.1 and PCIe interface to support video capture card or AI vision module makes WMP-19K a powerful selection for AIoMT solutions.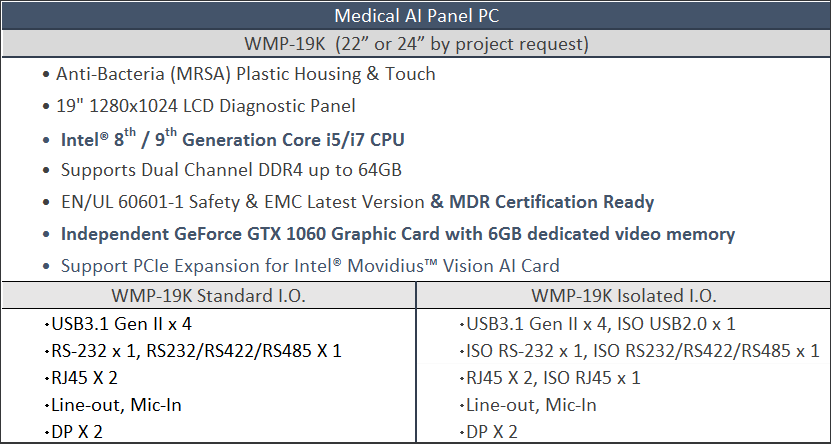 Everything, from the Mainboard, BIOS, driver to the mechanical design was designed by Wincomm. Special customer requirements can be fully supported with a long-term supply policy. If you have any product or customization requirements, please contact Wincomm sales (mail: sales_support@wincomm.com.tw). For more product information, please visit the Wincomm website at https://www.wincommusa.com/

Wincomm is one of Taiwan's leading manufacturer of industrial computer and embedded computer products. Wincomm designs and develops all in one panel PC, large size all in one digital signage system, rugged box PC and embedded software products for a broad range of industries and applications. Wincomm aims to provide hardware and software integrated solutions for the most variant environments such as industrial automation/ human machine interface control, digital signage / infotainment Kiosk, and medical computing.