2022 Computex Taipei Best Choice Award Winner – Wincomm 24" Medical OR Panel PC WMP-24M Series
2022-05-18
 
 

2022 Computex Taipei Best Choice Award Winner – Wincomm 24" Medical OR Panel PC WMP-24M Series



Wincomm is pleased to announce WMP-24M(-PIS) series – designed specialized for Operating Room at Hospital applications and a Computex Best Choice versus TW excellent Award winner at 2022. Equipped with an Intel® 10th Gen. Core™ i7i5/i3/Celeron processor with 35W, fanless, six-sides IP65 with unique I.O. cover, innovated dual video-in/out ports design, up to 250W power supply and one PCIex16 expansion slot to support medical image processing during operation, the WMP-24M(-PIS) series passed medical latest certification making it ready for various surgery OR applications in the hospital. Moreover, a special power supply inside for WMP-24M-PIS supports to install safely and secure the operation procedure with a good ergonomics design.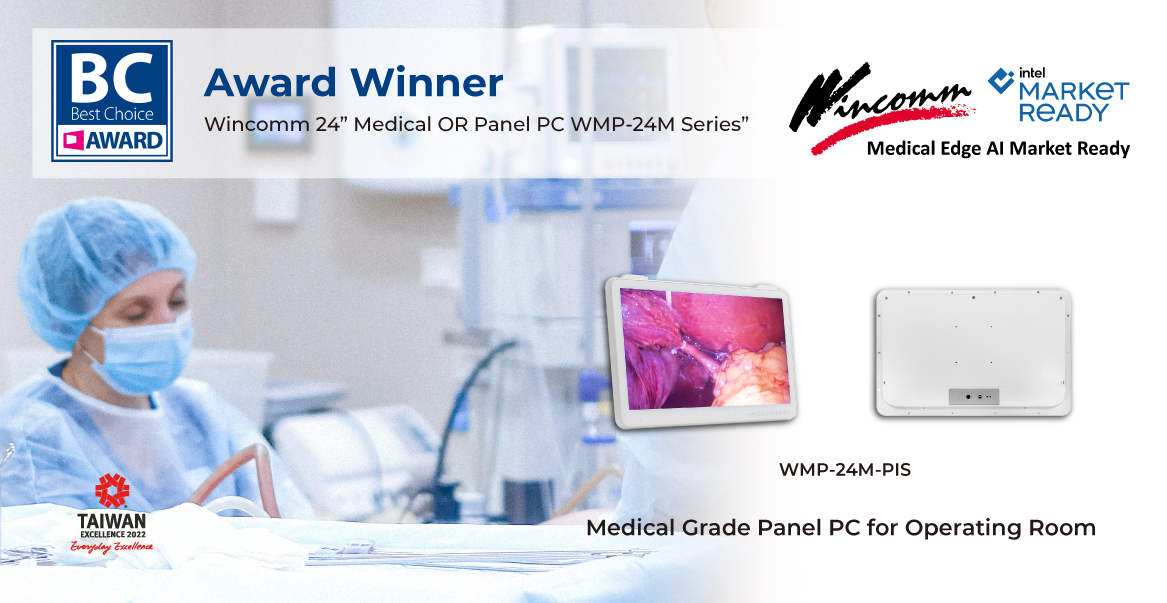 Fig1. Wincomm Comet Lake Medical Grade OR All In One PC WMP-24M-PIS Series Designed for Operating Room All Kinds of Applications in the Hospital. It Has Won Best Choice Award at Computex Taipei and TW Excellent Award in 2022.


Winner Factor - Optimizing Operating Room Safety by Unique Design
The winning factors for Wincomm WMP-24M are that it has patented antimicrobial touch control technology that integrates an antibacterial aluminum housing in a beautiful design with a first-ever internal power supply to ensure safety throughout medical operations. Besides, with the latest 10th generation Intel CPU, a simplified motherboard design, it comes with the innovated powerful cooling technology, and high speed input/output expansion slots to make it professional for any kind of surgery applications in the hospital.

Visit Wincomm More Front Tier New Products at Computex Cyber World
In Computex Taipei 2022, Wincomm prepares the front tier products to release medical grade touch panel PC, medical grade box PC, industrial grade touch panel PC, stainless steel touch panel PC and modular panel PC series. To meet the digital transformation requirement, most factories and offices are turning from automation to intelligent operation, and thus it would need higher computing computing power, flexible I.O. combination, modular design to scale up easier, and hygienic control support. Wincomm provide all industrial series panel PC with EMC class B to maintain install either in the office area or in the factory. With the panel mount WLP series, it upgraded to Elkhart Lake J6412 processor with 4 cores and 10", 15", 15.6" panel sizes for different machine control to choose. Moreover, it upgraded the new 6 side waterproof chassis type WTP series to Whiskey Lake and Elkhart Lake processor platforms to fulfill the hygienic control process under food, meat, fruit, or pharmaceutical applications.

Visit Wincomm at Computex Taipei Cyber World!
If you have any product or customization requirements, please contact Wincomm sales (mail: sales_support@wincomm.com.tw). For more product information, please visit the Wincomm website at http://www.wincommusa.com/

About Wincomm
Wincomm is one of Taiwan's leading manufacturer of industrial computer and embedded computer products. Wincomm designs and develops all in one panel PC, large size all in one HMI system, rugged box PC and embedded software products for a broad range of medical and industrial applications. Wincomm aims to provide hardware and software integrated solutions for the most variant environments such as industrial automation, human machine interface control, infotainment kiosk, and medical computing system.