Low Power Premium Elkhart Lake Industrial Panel PC WLP-7J20 Series – New Wide Screens for Selections
2022-07-27
 
Low Power Premium Elkhart Lake Industrial Panel PC WLP-7J20 Series – New Wide Screens for Selections


Wincomm, a leading medical and industrial computer provider, released its new WLP-7J20 series with Intel® Elkhart Lake CPU and now is available in sizes of 10.1(16:9), 10.4(4:3), 15(4:3), 15.6(16:9), and 21.5(16:9) inches. Featuring at its flexible design and rich I.O. to fulfill various requirement under industrial automation, WLP-7J20 series is powered by Elkhart Lake (EHL) Celeron® J6412 2.0GHz quad-core and supported Windows 11 to fulfill data processing computing under lower cost, higher performance but lower power consumption.

More Performance, Lower Power Consumption Upgraded to Intel Elkhart Lake Platform
Powered by Intel® Elkhart Lake platform, which has a 1.7x performance improvement on CPU, and a 2x performance improvement on GPU compared to the last generation platform, WLP-7J20 series is leveraged Intel® Celeron J6412 processor, with the clock speed up to 2.6 Ghz. This power-efficient CPU's overall power consumption is under 10w, and it is suitable for these data processing requirement at industrial automation while under lower cost total ownership.


Flexible Panel Sizes for Various Industrial Applications Condition
WLP-7J20 Series comes with various size to choose, including 10.4", 15" with display aspect ratio 4:3, and 10.1", 15.6", 21.5" with aspect ratio 16:9, and it aims to suit for different applications under versatile conditions. Moreover, except 10.1" with defaulted P-cap touch, the other sizes are provided not only the full flat resistive touch, but also the P-cap multi-touch for option to fulfill digital data accessing requirements.

Highest protective front IP66 design w/resistive touch solution
In addition to the CPU performance improvement, in the industrial computer design concept, WLP-7J20 series with its fanless design is suitable to use in various industrial automation control systems. A full flat touch design with 5-wire resistive touch, optional to P-cap multi-touch (10.1" defaulted P-cap touch), and an IP66 waterproof and dustproof front frame makes it convenient for factory operations and easy to clean.


Fig 1. Continued with WLP-7B20 series housing design, WLP-7J20 series owns HDMI, VGA, USB 3.2 x2, USB 2.0 x2, COM x3, LAN x2(2.5Gbps x1), and DC input 12~28V.

Flexible Options and Customization Capability
The WLP-7J20 series equipped with various I.O. ports, USB up to 4 (2 x USB3.2, 2 x USB 2.0), 3 x COM(1 X RS-232, 2 X RS-232/422/485), 2 x LAN(1 x 2.5Gbps), 1 x HDMI 2.0b, 1 x VGA, and expansion slot with 1 x PCIex1 Gen III, 1 x M.2 E key for WiFi/Blue tooth module, 1 x M.2 B key for PCIex1/USB and 4G/5G SIM card. Toward connected world for high speed transferring rate requirement, Wincomm offered optional add-on parts to support more workplace application, such as optional M.2 SSD, WLAN with external antenna, and more service to support your needs.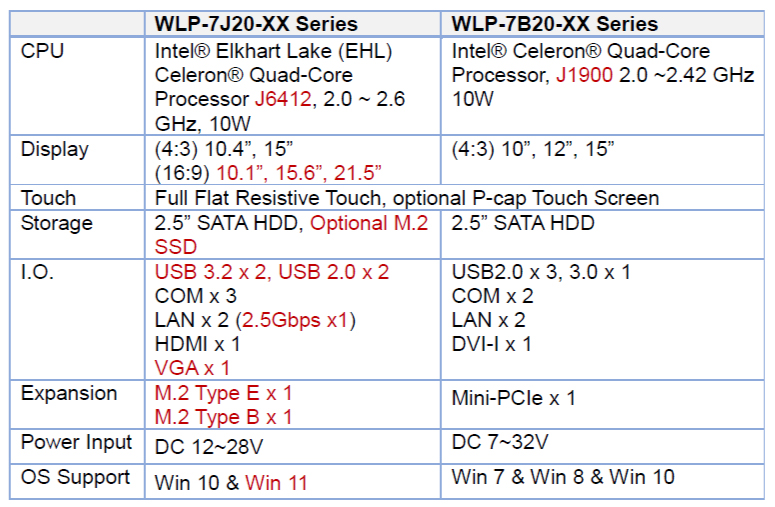 FCC, CE (EMC), VCCI Class B certification standards
The WLP-7J20 series has passed CE (EMC) / FCC / VCCI Class B certification standards, which results in an upgraded product for industrial, to home, to office, and laboratory usage. Our users have a higher protection level in their health and safety while using our products.


Special customer requirements can be fully supported with a long-term supply policy. If you have any product or customization requirements, please contact Wincomm sales (mail: sales_support@wincomm.com.tw). For more product information, please visit the Wincomm website at http://www.wincommusa.com/

About Wincomm
Wincomm is one of Taiwan's leading manufacturer of industrial computer and embedded computer products. Wincomm designs and develops all in one panel PC, large size all in one digital signage system, rugged box PC and embedded software products for a broad range of industries and applications. Wincomm aims to provide hardware and software integrated solutions for the most variant environments such as industrial automation/ human machine interface control, digital signage / infotainment Kiosk, and medical computing.