Elkhart Lake Full IP Waterproof Stainless Steel Box PC WTC-8J0
2023-01-31
 
Elkhart Lake IP69K Waterproof BOX PC WTC-8J0



High Performance Low Power Support Win 11




Wincomm, a leading medical and industrial computer provider, announced Full IP Waterproof Stainless Steel Box PC WTC-8J0, equipped with Intel Elkhart Lake CPU and with rich I.O. to enlarge the use at clean room, food process, pharmaceutical and chemistry factory for easily hygienic control. This fanless rugged IP69K embedded box PC designed with wide voltage and six side 100% waterproof to avoid any liquid or dust into the machine to damage the control.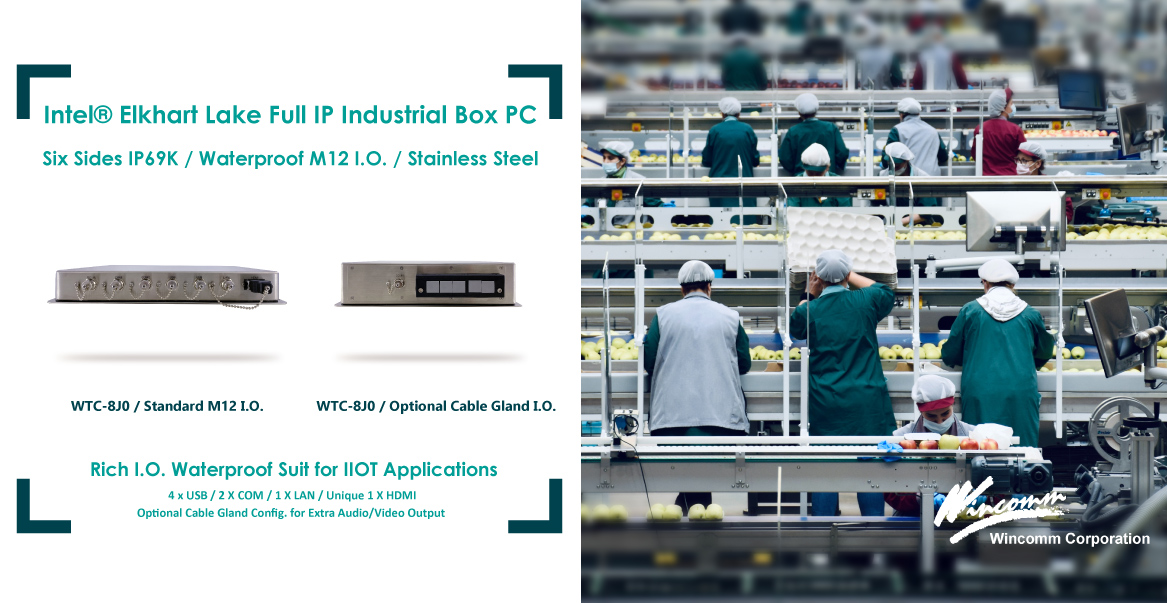 Stable Computing Makes High Quality Data Communication
Looking for devices that are rugged and minimize the maintenance costs is always what managers concern. WTC-8J0 is equipped with Intel® Celeron® J6412 2.0GHz (codename: Elkhart Lake (EHL), Passmark:3929, +43% compare to J3455) and up to 32GB of DDR4 RAM, under a compact size housing. Besides, the TCC and TCN function lower down the latency, increase the computing efficiency and improve the IoT system design.





Fig 1. WTC-8J0 is 100% water/dust proof guarantee with 304 stainless steel enclosure and IP65/IP69K protected. The left side is the M12 connector standard configuration and the right side is the cable gland type, IP69K protected.

Highest Protective Solutions with IP66/69K Full Sealed Enclosure
The enclosure is made by 304 stainless steel with chromium treatment. It could isolate oxidation, resist acid and alkali erosion, prevent bacterial growth, and is not easy to adhere to oil or foreign substances and makes it ideal for central kitchen, food process, pharmaceutical, and clean room applications. With M12 metal I.O. connector and optional self-designed cable gland configuration, and unique robust PCB-type antenna, it supports total waterproof and convenient installation under limited space.

COM and Power Port Available by Customization
End user may use a COM interface device, such as barcode scanner, which needs COM plus DC power from PC via single cable to operate. The way COM cable works is that a serial connection does not use all its pins in the interface with a COM cable. Therefore, Wincomm customizes the mother board with a 5V or 12V power supply in COM port.

Flexible Options and Customization Capability
The WTC-8J0 is equipped with various I.O. ports, USB2.0 up to 4, COM x 2, LAN x 1, and optional External LAN x 2 (occupied one COM port). Perfectly suiting to IoT solutions, it provided M.2 slot for both 5G/LTE or Wifi module and the second storage up to M.2 PCIe Gen III for data back-up, which enhancing with information security monitoring, transmission by remote manage, and thus safe maintenance fee without on site support.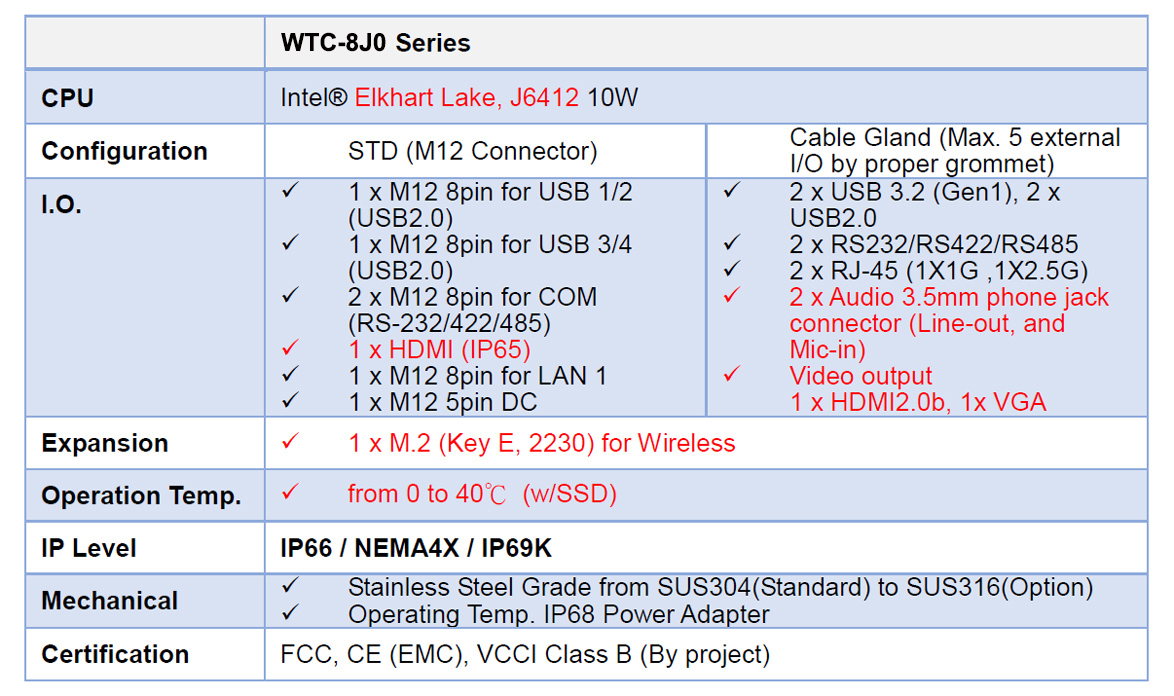 Designed by Wincomm, special customer requirements can be fully supported with a long-term supply policy. If you have any product or customization requirements, please contact Wincomm sales (mail to sales_support@wincomm.com.tw). For more product information, please visit the Wincomm website at http://www.wincomm.com.tw/

About Wincomm
Wincomm is one of Taiwan's leading manufacturer of industrial computer and embedded computer products. Wincomm designs and develops all in one panel PC, large size all in one digital signage system, rugged box PC and embedded software products for a broad range of industries and applications. Wincomm aims to provide hardware and software integrated solutions for the most variant environments such as industrial automation/ human machine interface control, digital signage / infotainment Kiosk, and medical computing.