Wincomm for Sustainable Innovation
2023-03-01
 
Wincomm for Sustainable Innovation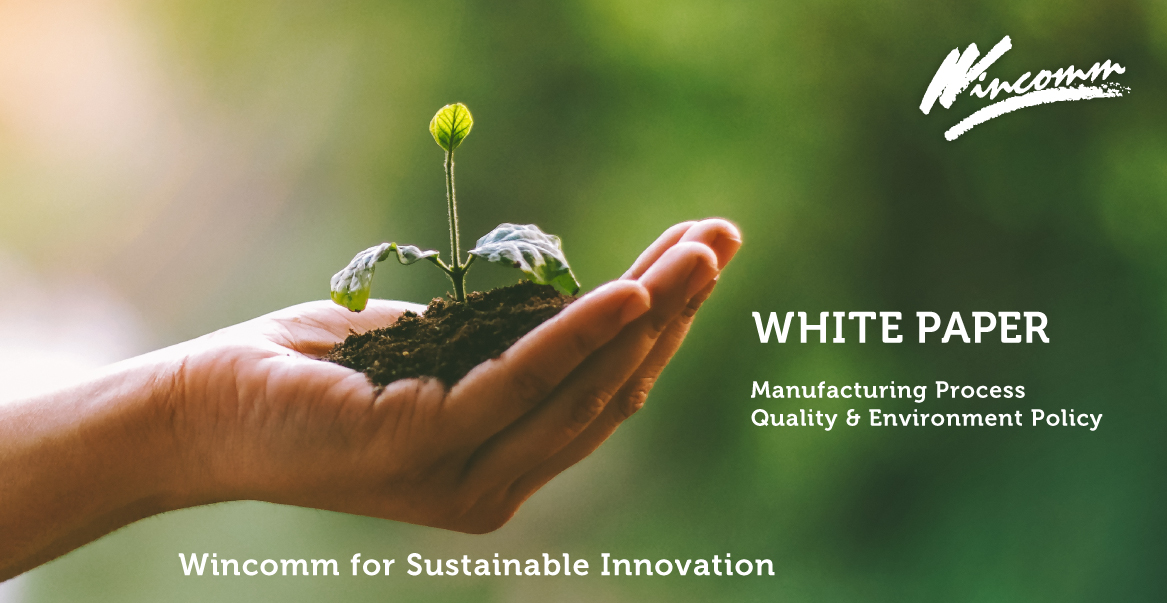 Wincomm, a leading manufacturer dedicated to the independent design and development of medical-grade and industrial-grade touch panel PCs, takes environmental protection management and sustainable operation as the goal of all employees, and insists to continue our sustainable innovation.


As the human population grows, our demands on existing water supplies, sewers, and agriculture require the use of technology to optimize our systems and create a circular ecosystem. The UN has spelled out the problems with actionable goals, now it's time to build the solutions and Wincomm can help. If you are developing a solution for sustainable innovation, our team has the experience to make sure you have the technology tools you need, computers that are reliable and built to last.


Environment Policy – Four Directions
1. Concentrate R&D Innovation. Maintain Resource Sustainability.
2. Conform Environmental Regulations. Dedicate Pollution Prevention.
3. Continue Environmental Improvement. Ensure Sustainable Business.
4. Implement Green Management. Fulfill Social Responsibility.


Taking E (Environmental Protection), S (Social Responsibility), and G (Corporate Governance) in the formulation of environmental policy, Wincomm has passed ISO14001 environmental management system as the base, and took corporate social responsibility as the premise. The goal is to drive the business management to achieve sustainable business operation. Moreover, Wincomm had already finished the evaluation about the introduction of green environmental related management system, such as ISO50001, ISO14064-1. They will be implemented in 2023Y. Environmental awareness is on the rise, and green environmental protection is a basic responsibility to enterprises. Wincomm will act to achieve the concept of ESG and the goal of environmental sustainability. As part of our commitment to environmental protection, we are planning to adopt environment and social responsibility standards, starting in Q3 2023. This will include ISO 50001 Energy Management System, ISO 14064-1 Greenhouse Gases - Part 1, and ESG (Environment, Social, Governance) Standards.


Green Policy – Sustainable Operation


RoHS Compliance
Wincomm proudly announces that all of our products are fully compliant with the RoHS Directives (2011/65/EU and 2015/863/EU) of the European Union, which restrict the use of hazardous substances.


REACH Compliance
For the requirement of EC No.1907/2006 Registration, Evaluation, Authorization and Restriction Chemicals ("REACH"), Wincomm all product(s) is/are within the definition of "Articles" in subsection 3 of Article 3 of REACH. None of the substance contained in Product(s) meet the registration conditions of Article 7 of REACH. Wincomm will keep monitoring the new development of SVHC requirement and be fully in compliance with REACH schedules to notify the agency if the products contain any SVHC substances.


Green Manufacturing
Wincomm takes its social responsibility for the global environment seriously and our employees work together to promote green management and sustainable development. We are committed to using new technologies to conserve resources and ensure sustainable operations. All of our activities must comply with international and domestic environmental regulations. Wincomm is dedicated to reducing the impact on the environment by driving zero pollution in manufacturing and implementing waste recycling.


For years, Wincomm has demonstrated its commitment to environmental protection and social responsibility through charitable sponsorships and activities. As a responsible member of the global community, we extend our commitment to sustainability from our products to our social impact.


About Wincomm
Wincomm is one of Taiwan's leading manufacturer of industrial computer and embedded computer products. Wincomm designs and develops all in one panel PC, large size all in one HMI system, rugged box PC and embedded software products for a broad range of medical and industrial applications. Wincomm aims to provide hardware and software integrated solutions for the most variant environments such as industrial automation, human machine interface control, infotainment kiosk, and medical computing system