Wincomm Upgraded Medical Cart Panel PC to 12th Gen. - WMP-22P/24P Series
2023-03-23
 
Wincomm Upgraded Medical Cart Panel PC to 12th Gen.



- WMP-22P/24P Series




After global pandemic, digital healthcare for remote service is turning to more important to impact the industry. Focus on develop innovative solutions that empowered by AIOT in medical industry, Wincomm medical cart AIO pc series, which could integrate with patient information, video and vital signs data into this single platform, making it easier to have virtual consultations with various specialists and to provide timely, specialized care to patients. Therefore, Wincomm has developed the WMP-22P/24P, a leading performance, medical grade touch panel PC design to suit for various medical cart. applications. This WMP-22P/24P series leveraged 12th Gen Intel® Core™ U series, i7/i5 15W, with fanless design, and featured three hot swappable batteries to support ward checking up to 8 hours for mobile medical cart applications. Moreover, it features at embedded i-control design which is optimized thermal, power and CPU intelligent management, to maintain operating 24 /7 run time at stable performance. To integrate high resolution IP Cam, it would enhance the telehealth solution with the powerful PC could effectively deliver real-time but high quality healthcare service to the patients and doctors.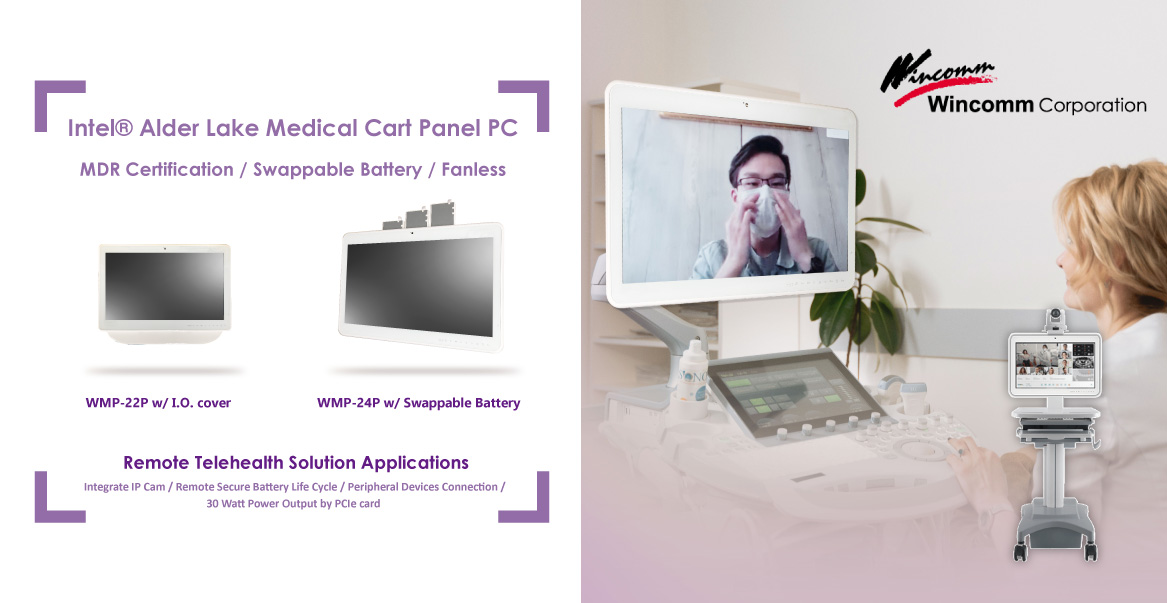 The new medical cart touch panel PC series offer 21.5-inch, WMP-22P, and 23.8-inch, WMP-24P, FHD touchscreen, for all kinds of mobile medical cart applications in the hospitals. Featuring at up to three hot swappable batteries, it provides self-innovated 3x Li-ion Batteries with high current for 336Wh capacity ready for 24/7 run time, and an optional 3-slot battery charger station, about 2 hours to 100% capacity per battery. With remote battery health monitoring system, it could predict the battery life cycle to intelligently sustain the battery system and secure medical cart PC power condition. In addition, It could connect to the peripheral devices, such as an RFID, Barcode reader or smart card reader, powered by PCIe card up to 30 watts, which is convenient to medical cart. applications during ward inspection.


With Anti-bacterial, IP65- and IPx1-protected housing, it upgraded two storages at M.2 PCIe Gen III SSD and SATA HDD, with side doggy door for easy installation, and reserve the PCIe expansion slot for more options. The self-powered with fast booting and wireless feature is ideally for mobile digital hospitals, clinics, and care homes.


Moreover, the brand-new HDMI video-in function enables the PC to be the display with OSD for color/brightness adjustment, and it still reserve the two extended displays. Providing optional DICOM module, it could fulfill professional medical image reading as well. With the reading light on the bottom, it makes it easier to read and a light sensor to easily adjust screen brightness to protects eyes and save more power during the ward inspection at night. Passed the latest medical certification, MDR, UL/EN 60601-1, this series is ready to use in clinical, ward inspection, point of care and all kinds of medical carts applications.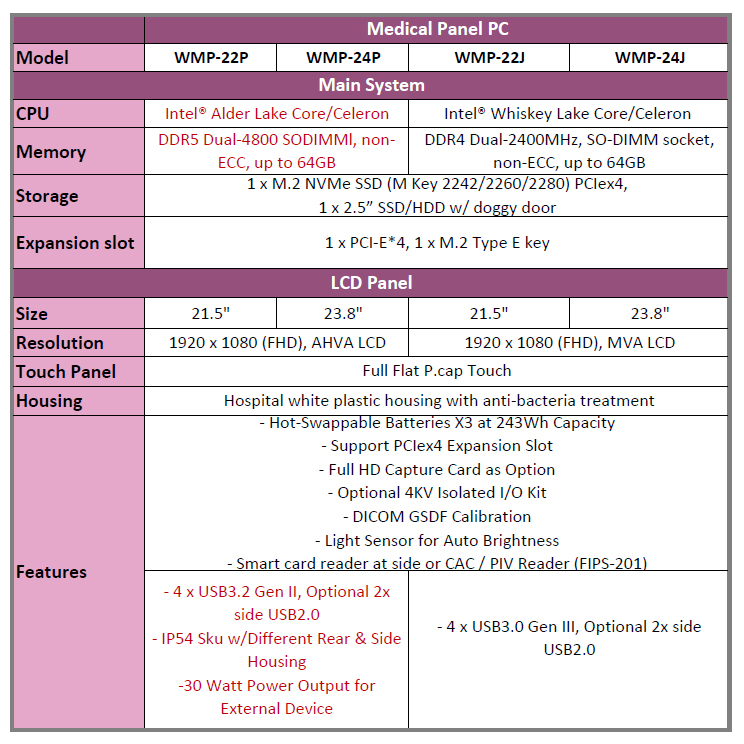 About Wincomm
Wincomm is one of Taiwan's leading manufacturer of industrial computer and embedded computer products. Wincomm designs and develops all in one panel PC, large size all in one HMI system, rugged box PC and embedded software products for a broad range of medical and industrial applications. Wincomm aims to provide hardware and software integrated solutions for the most variant environments such as industrial automation, human machine interface control, infotainment kiosk, and medical computing system.