2023 Medica Dusseldorf Wincomm Launched 19"-24" Raptor Lake Medical AI Panel PC WMP-19S/22S/24S Series MXM GPU Card / UPS Battery Inside
2023-11-02
 
 2023 Medica Dusseldorf Wincomm Launched 19"-24" Raptor Lake Medical AI Panel PC WMP-19S/22S/24S Series



- MXM GPU Card / UPS Battery Inside



Wincomm is pleased to announce WMP-19S/22S/24S series – designed specialized for AI assisted diagnosis and operations at hospital. Equipped with an Intel® 13th Gen. Core™ i9/i7i5 processor with 35W(max), 24/16/14 cores, one embedded MXM graphic card slot ready for A4500/A2000/A1000, IP65 front, innovated dual video-in/out ports design, up to 250W power supply, optional UPS battery and one PCIex4 expansion slot to support medical image processing during operation, the WMP-19S/22S/24S series passed medical latest certification making it ready for various AI assisted surgery, diagnosis and clinical applications in the hospital. Moreover, a special MXM graphic card inside up to Nvidia A4500, 20GB GDDR6 with ECC 80W plus powerful Intel core processors up to 5.0/4.5Ghz 35W support for intense graphic processing real time which has overcome rugged thermal issue to optimize the performance.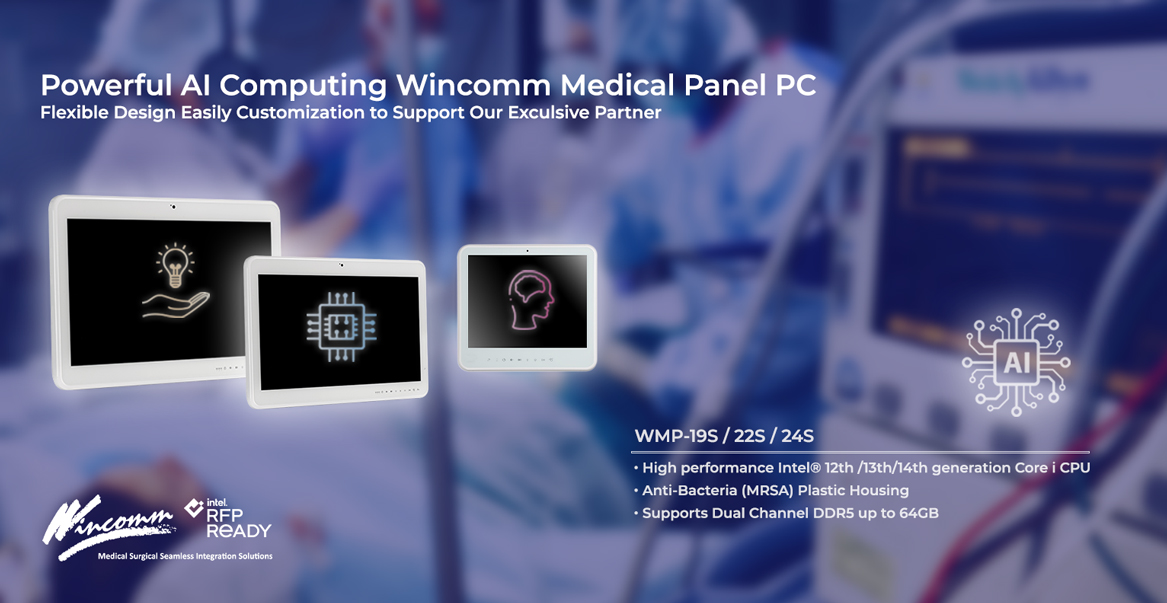 Fig1. Wincomm Raptor Lake Medical Grade AI All In One PC WMP-19S/22S/24S Series Designed for All Kinds of AI-assisted Applications in the Hospital.

Features - Optimizing Graphic Accelerator and Power Design for Medical AI Solutions
The trend of artificial intelligence computing to accelerate the intelligent application of medical imaging not only requires considerable computer computing performance, but also requires a high-energy-consuming imaging accelerator card, which generates a large amount of heat energy and needs to be solved in a limited computer space to achieve safe use and have Considerable design threshold. Sino-American Wantai independently developed i-control intelligent optimized power supply, computer computing and cooling solutions to meet this new generation of design challenges and calmly solve them to achieve recognition and adoption by the world's leading medical equipment market. In addition to using Intel's 13th generation (Raptor Lake) processor to achieve 5.0/4.5Ghz computing performance, it also requires a built-in Nvidia RTX A4500 graphics accelerator card up to 80 watts under the design conditions of 19-inch, 22-inch and 24-inch In the space, it achieves heat dissipation and passes medical-grade safety and electromagnetic wave specifications. In response to the requirements for safe surgical operation, the optional built-in uninterruptible battery is an important design, which makes the heat dissipation conditions more stringent, but this machine has perfectly overcome it. In addition, in response to the use of expansion equipment in digital medicine, such as smart cards, CAC/PIV cards, etc., the reserved groove design can accommodate up to 6 USB connectors and provides a PCIe expansion interface to ensure image capture. The cards can be used at the same time, and GPIO image capture API is provided free of charge according to customer needs to facilitate the use of various medical surgical images.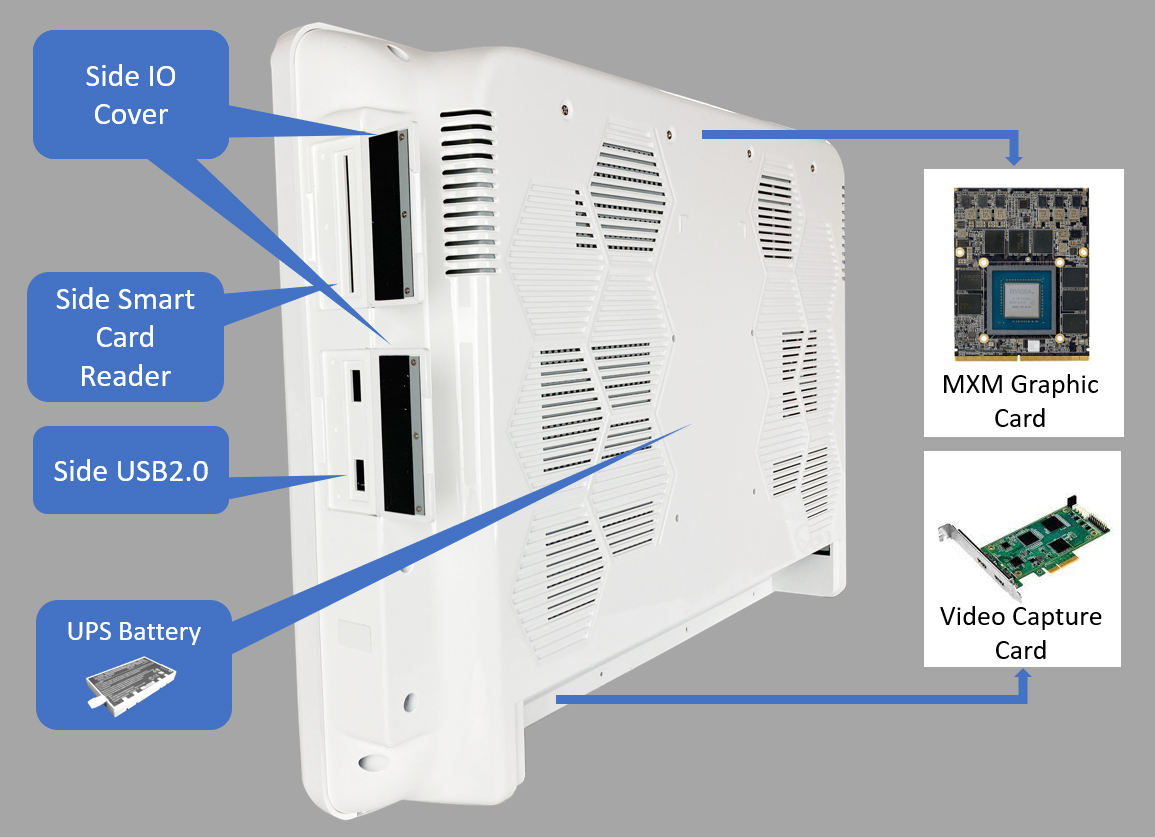 Fig 2. WMP-19S/22S/24S Series Featured at Embedded MXM Graphic Card, PCIe Expansion Card for Video Capture Card, Side Smart Card Reader Slot, Up to 6 x USB for All Kinds of Medical AI Applications.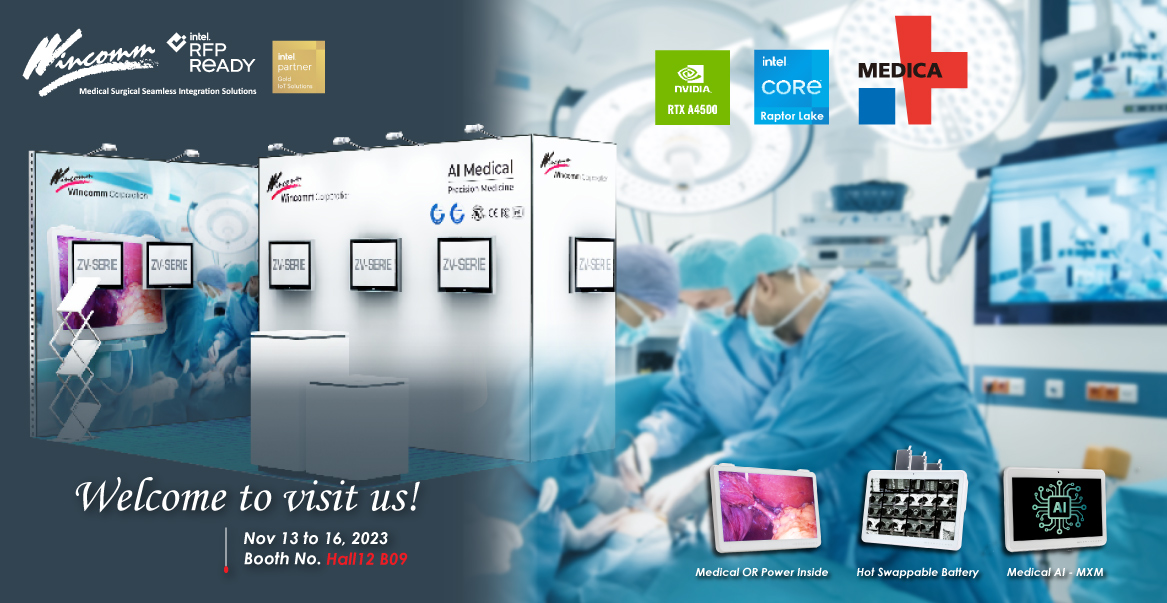 Visit Wincomm at Hall 12 B09 Medica Dusseldorf 2023!

If you have any product or customization requirements, please contact Wincomm sales (mail: sales_support@wincomm.com.tw). For more product information, please visit the Wincomm website at http://www.wincomm.com.tw/ 。

About Wincomm
Wincomm is one of Taiwan's leading manufacturer of industrial computer and embedded computer products. Wincomm designs and develops all in one panel PC, large size all in one HMI system, rugged box PC and embedded software products for a broad range of medical and industrial applications. Wincomm aims to provide hardware and software integrated solutions for the most variant environments such as industrial automation, human machine interface control, infotainment kiosk, and medical computing system.