WMP-24C used in Euro hospital endoscopic system
2018-12-28
High CPU performance/ PCI-E[x16] expansion/ Battery pack can last 20 to 50 minutes/ Medical UL/EN 60601-1 4th edition
Wincomm announces that the WMP series 24" medical grade touch panel PC WMP-24C was

used in

a Euro hospital operating room's endoscopic system

. The

WMP-24C meets the embedded

endoscopic system

specifications

with its high performance CPU, graphics capabilities, PCI-E[x16] expansion function and image capture card. In addition, it has

USB3.1 gen 2 slots (with transfer

speeds of up to

10Gbps) to conveniently connect other medical devices. The P-cap touch design

allows users to easily operate the unit.

The 24 inch WMP-24C with Intel Skylake i5-6500TE, passmark: 7421 has the highest performance for its panel size in the medical grade panel PC industry. (Wincomm actual test results; versus industry passmark average of 6443).

In a hospital setting, medical panel PC's which connect high-end medical equipment such as an endoscopy system, must meet the following conditions in order to be integrated into the hospital system.
● High performance Intel Skylake Core i7 -6700TE (Quad Core)
● Expansion PCI-E [x16] slot
● Battery pack 20-50 minutes
● 2-4 x COM & 4-6 x USB slots
Wincomm's WMP-24C is equipped with the summarized advantages above, which allows it to be used for hospital endoscopy. In addition, the other sizes in Wincomm's C-Series Medical Panel PC's, the WMP-15C/19C/22C, also inherit many of the same advantages. They will come with the latest Intel 6th generation Skylake platform CPU Core i5-6200U, passmark: 4411 (Wincomm actual test results, versus industry passmark average:3985, the best performance marks in medical grade panel PC). Wincomm WMP series products are designed with a PCI-E [x4]expansion slot, distinguishing it from competitors' products.
Pic: WMP-15C/19C/22C/24C Series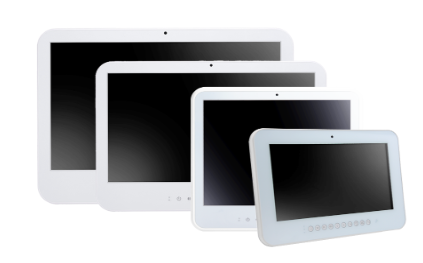 Wincomm WMP-15C/19C/22C/24C have acquired the latest Medical UL/EN 60601-1 4th edition certification, Energy star 6.1 Compliance with FCC / CE / VCCI Class B; With better performance on energy saving and greatly improved safety on the electromagnetic wave, users are relieved from security concerns. The latest Medical UL/EN 60601-1 edition certification has higher requirements of EMC compliance. ESD levels are increased from 8KV air to 15KV air, and contact from 6KV to 8KV. Wincomm's Medical UL/EN 60601-1 4th certification means their products can withstand higher amounts of environmental electromagnetic waves, resulting in more robust products and a substantial increase in user safety.
Pic: Medical UL/EN 60601-1 4th edition ; FCC / CE / VCCI Class B ; Energy star 6.1 Compliance