Maximum Cable Combination with Wincomm New Cable Gland for External I.O. Flexible Design
2020-05-06
Maximum Cable Combination with Wincomm New Cable Gland
for External I.O. Flexible Design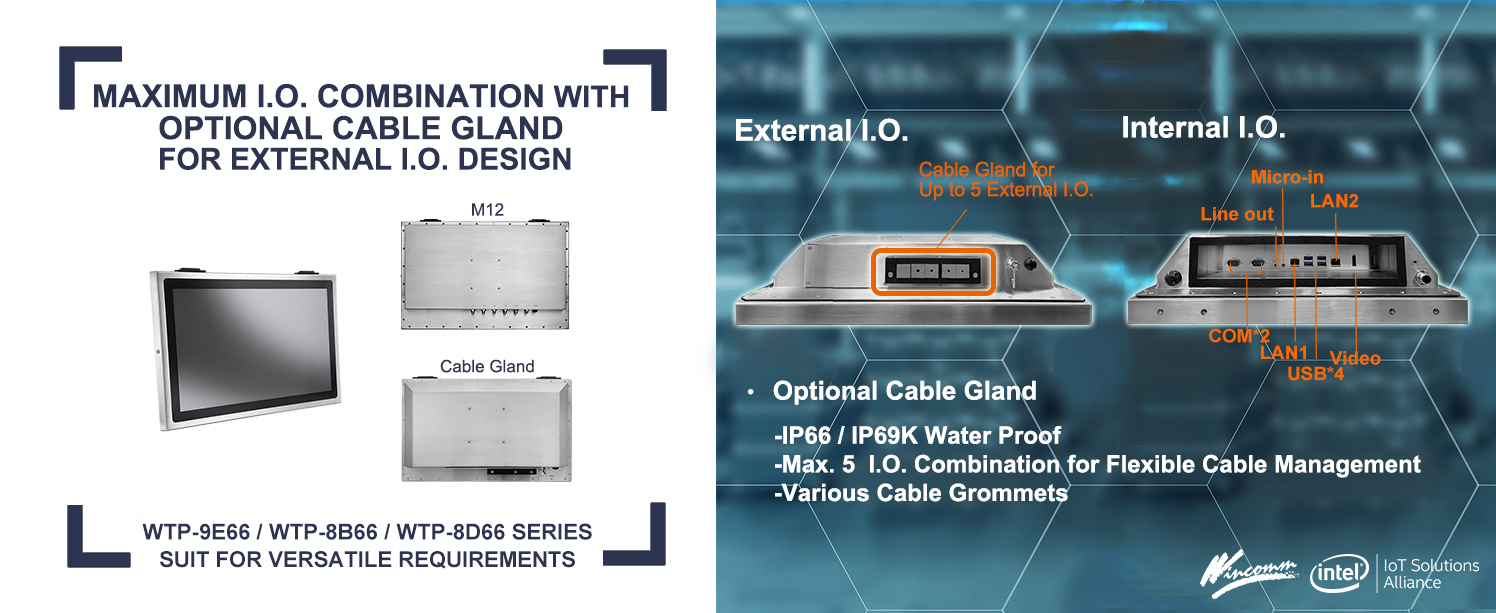 Figure 1. Wincomm new cable gland for external I.O. solution suits for the rapid changed industrial environments with various I.O. combination under IP66/IP69K test proof.
Hsinchu, Taiwan – 6th May, 2020, Wincomm, a leading medical and industrial computer provider, launched new cable gland for external I.O. design to maximum versatile I.O. combination to support water proof applications up to IP66/IP69K. Facing on rapid changed industrial environments and various applications, Wincomm provided customization service to suit for different requirements, moreover, now it is innovated new cable gland for external I.O. to shorten customization time and cut down cost fee to benefit directly to most versatile applications.

Typically, most industrial grade panel PC enclosure systems are fitted with cable entry glands that will maintain a seal, while providing a clean, safe entry point for cabling to reach computer equipment. At full sealed applications, Wincomm design full IP series which designed with stainless steel housing and M12 metal connectors with fixed I.O. combination to extend external I.O. by M12 connectors. Accompanying with customization requirement growth to fit in different applications, it is innovated cable gland with various cable grommets available to suit specific enclosure applications with minimum time to market and thus make it a cost effective solution to users.
How to Run Various I.O. Cables Options with Cable Gland Design
Under IIoT trend, industries are required more different peripherals to link to machine control computer, however, a rugged panel PC with a water proof, dust proof full sealed enclosure, would increase the customization time versus cost to fit in the demand. Working together with partners closely, Wincomm has innovated this optional cable gland for external I.O. selection to overcome this challenge to deliver solutions time to market. The full IP stainless steel panel PC series, including all sizes and wide temp ones of WTP-9E66 series, WTP-8B66 series, and WTP-8D66 series, are going to take the lead for this new design, and it would maximum I.O. combination based on various conditions by its flexible cable grommets with up to 5 external I.O. selections. Users could select your suitable product SKU by figure 2, and the selection procedures are listed below,
  
Selection Step I: Select 5 I.O. interface combination from internal I.O. such as, USB 3.0, USB 2.0, COM, LAN, Video Out, Line-Out and Mic-In.
Selection Step II: Choose suitable grommets size for your cable. The defaulted one will be blank, without grommets; and, there are three types of grommets size ranging from 3-4 mm, 4-5 mm, to 5-6 mm for the chosen cables by end users.
Selection Step III: If you need to have an extension cable, you could use the long length cable and it is not necessary to choose extension cable from Wincomm.
Selection Step IV: Please be well noticed that the thickness of the whole system will increase from 58-64 mm to 105 mm, and it would require a little bit more installation space compared to the standard system.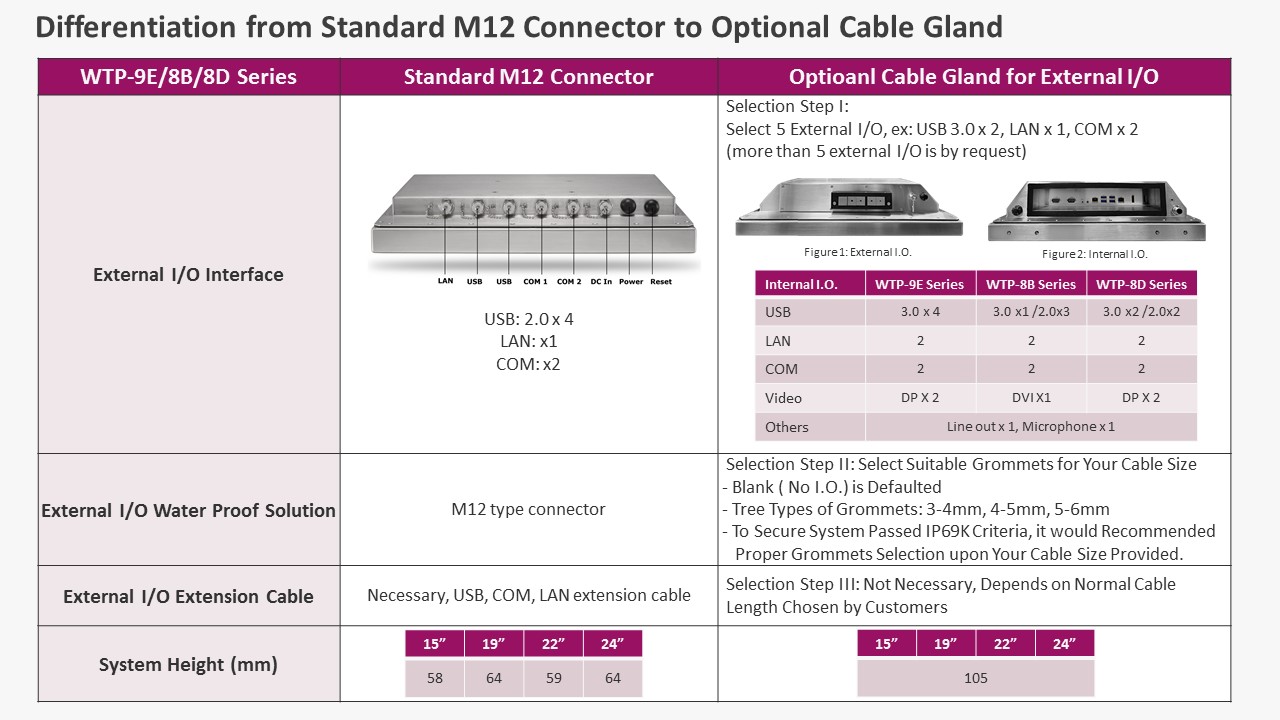 Figure 2. The above table shows "Differentiation from Standard M12 Connectors to Optional Cable Gland", which indicates how to choose from WTP-9E66, WTP-8B66 and WTP-8D66 series by steps.

Passed CE/FCC/VCCI Class B Certification
The optional cable gland for external I.O. design has been proofed to pass CE, FCC, VCCI class B and could sustain IP66/IP69K test criteria in WTP-9E66 series, WTP-8B66 series, and WTP-8D66 series, which results in an upgraded product for industrial, to home, to office, and laboratory usage. With this flexible design to fulfill rapid change industrial requirements toward IIoT, our users could have a cost effective and higher protection solution in their health and safety while using our products in more efficient delivery time.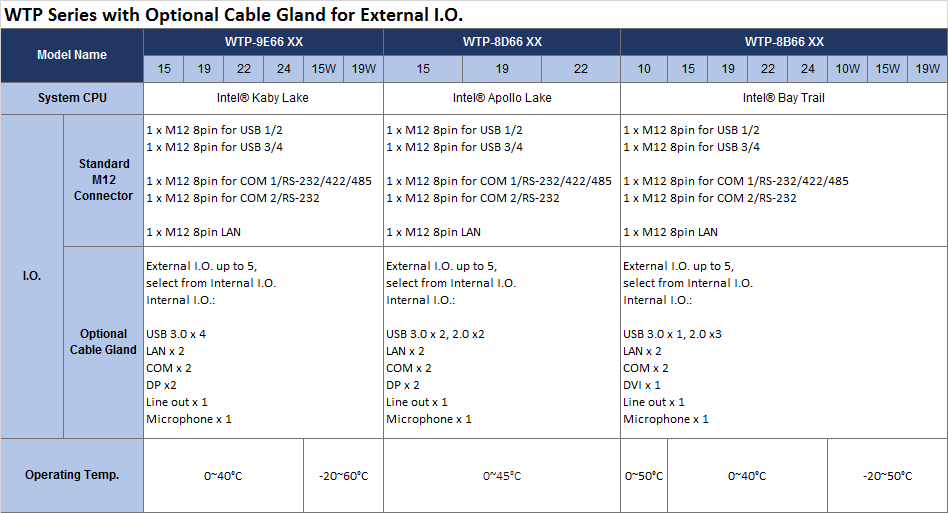 Table 1. The above table listed all WTP series by specific model name with optional cable gland solution.
Everything, from the Mainboard, BIOS, driver to the mechanical design was designed by Wincomm. Special customer requirements can be fully supported with a long-term supply policy. If you have any product or customization requirements, please contact Wincomm sales (mail: sales_support@wincomm.com.tw). For more product information, please visit the Wincomm website at https://www.wincommusa.com/

Wincomm is one of Taiwan's leading manufacturer of industrial computer and embedded computer products. Wincomm designs and develops all in one panel PC, large size all in one digital signage system, rugged box PC and embedded software products for a broad range of industries and applications. Wincomm aims to provide hardware and software integrated solutions for the most variant environments such as industrial automation/ human machine interface control, digital signage / infotainment Kiosk, and medical computing.